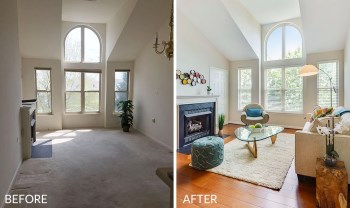 Home staging is a popular term used today that indicates the process a person uses to get their home ready for sale. You can stage your home yourself if you like, or you can hire a professional home stager. Either way, the goal is the same – to present your home in the best possible light in order to make a great sale!
Having your home staged offers the opportunity to make it comparable to other homes on the market or to even stand out from them. A staged home will be neat, uncluttered and allow a home buyer to visualize the space as his own. A well-staged home will draw attention to the home's unique features, rather than making the focus on furnishings and accessories. A staged home takes the everyday normal home to a new level of freshness. It becomes an inviting place, one that is interesting to potential buyers.
Good First Impressions
The first impression a home buyer gets is important. Hiring a home stager to set the tone for your house can help boost a first impression. A professional home stager has experience working with a broad variety of homes and will have ideas to implement that you might not have thought of. A stager may also have props to loan or rent you that will add pizzazz to your home.
Saves You Money
Often, in an effort to improve their home's look, homeowners will spend money on things that are unimportant to a buyer. A big screen TV might be impressive, but a home buyer will look beyond it. He's concerned with what comes with the house. Upgrading the showerheads in the bathrooms may seem like a good idea, but won't likely become the selling feature of the home. Replacing a rusty mailbox, however, might make a difference.
Costly additions such as hardwood flooring or new kitchen cabinetry may tempt a seller to list the house at an inflated price in order to earn back what he's spent. Unfortunately, doing so may price it out-of-reach for many buyers. Changes of this nature must be carefully calculated.
A home stager can advise you on the right types of changes to make on your home. Often there are cheaper cosmetic improvements that will perk up the look of your home. Even re-arranging the furniture in some homes can make a huge difference. A home stager may also have items such as new appliances, furnishings or accessories they will rent you, saving you from purchasing them.
Before making major changes to your home, why not consult with a professional home stager to get their opinion?
You Decide
Your home is an important financial asset. Of course, you should have the final say on what changes are made to it and how much is spent on getting it ready for sale. When you hire a home stager, have that important discussion together and make your wishes known. Set timelines and a budget you're happy with.
In the end, the home-stager is on your side. The goal is to sell your home as quickly as possible at a price that meets or exceeds your expectations.
Having your own personal home stager can take a lot of pressure off you at what, in most cases, is a stressful time. Why not look into the idea of hiring a professional home stager and see if it's for you?
Real Estate Agent Stephanie Hawthorne
My name is Stephanie Hawthorne and I'm a top-producing Colorado Springs real estate agent who serves both buyers and sellers throughout the local area to include Fountain, Fort Carson, Woodland Park, Divide, and Monument.
I have lived in Colorado for 24 years and have called Colorado Springs my home where my husband and I raise our two children Haven and Jackson. As a local real estate agent, I'm very familiar with the Colorado Springs. For that reason, I can help you find a home in Colorado Springs, CO or sell your home in Colorado Springs, CO.
After 19 years in the real estate business and six years working with another local real estate office here in Colorado Springs, I decided to take my years of experience and motivation and open my own real estate office.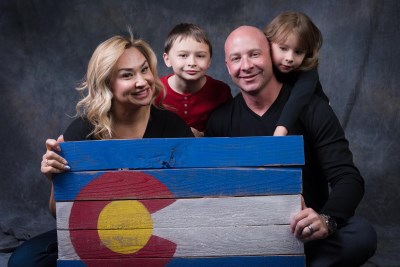 When searching for a Colorado Springs real estate agent, I know you have a choice. It's that choice that drives me and my team at The Real Estate Group to always work harder than our competition for you.
For those of you proudly serving in the military and visiting my website, thank you for your service and commitment to our great country! I grew up in a military family and, given the chance, would be honored to serve you. As a military relocation specialist, I also understand the challenges military families face when relocating and can help your transition be a smooth and less stressful one.
Please, call me at 719-536-4444 or email me at Stephanie@SellingCO.com for a no obligation and free consultation and see for yourself why so many past clients, and now friends, have been so happy with my service.